Nerja town centre has preserved its traditional Andalucian construction. In many tourist resorts, economic development has taken place and changes have been made in order to accommodate the arrival of mass tourism, transforming the houses and streets of entire towns, and almost always for the worse.
Nerja, however, has not only conserved its original structure, but all new constructions have been adapted to the traditional Andalucian style of whitewashed houses, windows with grills, terracotta tiled roofs, etc.
The nerve centre of Nerja is the Balcón de Europa, a favourite site with local people and visitors alike. The promenade, flanked on the left by lovely arches, and on the right by hotels, bars and restaurants, ends at a semi-circular viewpoint on the cliff-top, commanding magnificent views over the Mediterranean and the surrounding mountains. At the opposite end, turning left, is a square containing the church of El Salvador.
The land around Nerja is reserved for agriculture, and the town and its surroundings are kept marvellously green thanks to the abundance of natural springs and wells. Indeed the name Nerja is derived from the Moorish word Narixa, meaning 'rich in water'. The fields are filled with exotic fruits such as chirimoya, avocado, kiwi fruit, figs and bananas, and the range of local vegetables is superb.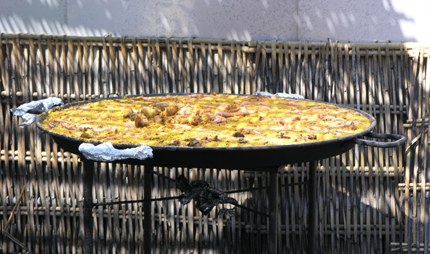 If you're not actually out walking, there are lots of things to do and see in the town, in addition to sampling a delicious paella (above). You can while away a few hours just meandering around the streets and browsing in the many shops, or visiting one of the six beaches, or just sitting outside one of the many lovely cafe-bars, with a drink and tapas. For the more energetic, tennis, volleyball, squash and golf are available in the town or within comfortable reach. Horse-riding, biking and 4x4 excursions are available, in addition to the excellent walking opportunities locally.
A car is useful for getting around the town - although it is still sufficiently small to walk from end to the other - in addition to allowing you readily to visit such places as Granada (with its famous Alhambra Palace) and Frigiliana - a beautiful Andalucian 'white' village just 7 kms out of town - and the famous Nerja caves (3 kms) which are some of the finest in Europe. Then from November to Easter time, the fine ski resorts of the Sierra Nevada are within a two hour drive and offer excellent facilities for skiers of all levels at very reasonable prices.
Much, much more information on Nerja can be found on our parent SpainAway website.