Distance:  6 km                         Time:  2 hours                         Difficulty Rating: Medium
MapMyWalk Link        PDF Link (available to SpainAway guests)
This walk is almost entirely based on Elma Thompson's FR/04 walk from Frigiliana. An entirely circular walk, it descends from the ring road around the base of the old village, down into the countryside below, eventually circling back up to the old village once more. Once you leave the main road you are immediately into pure campo terrain, the route involving a pretty steep, in places, decent down into the valley, followed by an equally steep return. A very pleasant, and not too long walk, mainly on drivable (or cycleable) country roads.
The map below shows the route in its entirety, with km markers inset, together with an indication of the elevation reached during the walk. You can also link to the online version of this map, located on the MapMyWalk website, with the ability to zoom in onto much finer details and so on, as described in our introduction. The link details are given above.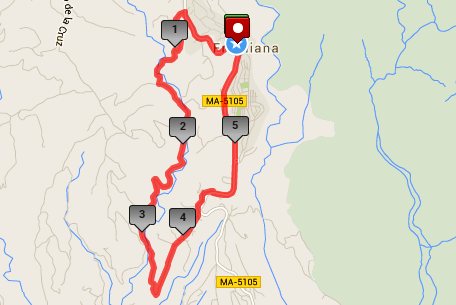 As with all walks from Frigiliana, we begin from the roundabout on the main ring road, just below the Old Sugar Factory,. Proceed out along the ring road, heading north-west, passing a large sports pavilion on your left, together with the Enrique Gines primary school. After about ¾ km, and just after passing a white hut, again on your left, fork left down a concrete track that leads down into the campo. In about 100 metres the track forks, and keep left here, following a high stone wall on your left. The track then zigzags quite steeply down into the valley, with some excellent views to be seen,, and rural sights to be noted.. Eventually the route crosses over the river (although you may not notice this).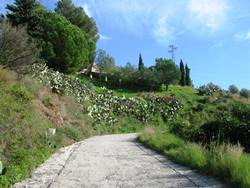 Continue on down the valley, passing a number of Cortijos, including the rather attractive Cortijo Carmen, and as you approach the lowest point of your route you can see the road off to your left that you will be taking back up to the Frigiliana road. On reaching a junction just after the 3 km mark, , with a number of signs displayed off to your right, you must actually turn left here, as you begin the ascent described above. After a while the track passes the restored Cortijo de la Casilla (with an interesting ruin just behind),, together with a number of other interesting dwellings, also affording you a view of the old part of Frigiliana, from where your trip began. Eventually you will reach the main road up to Frigiliana, at about 4 ½ km, lying just above the hamlet of La Molineta.
Turn left at this junction, up the hill, noting the splendid views to your right, across the valley, before reaching the roundabout at the entrance to the new village, where you should take the left hand route, or ring road, taking you back to the start point of your walk.